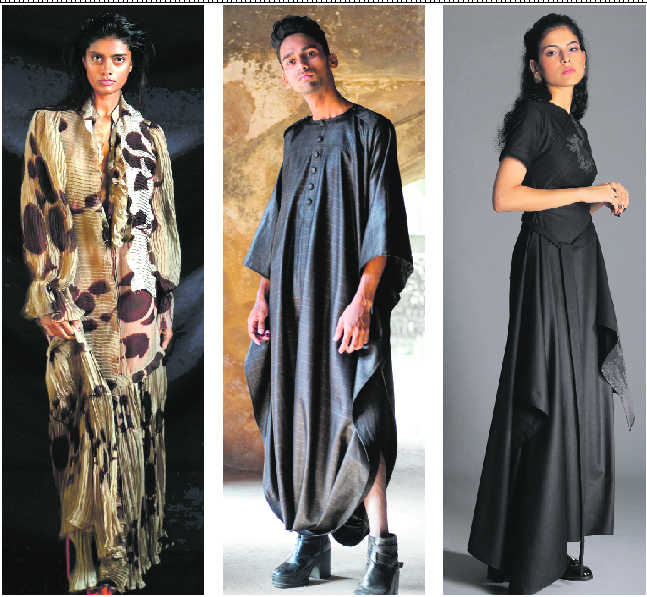 Manpriya Singh
Orbunosex clothing, slow fashion, athleisure, androgynous or ecological—what is the future of fashion? Thankfully, it doesn't any more lie in assembly line productions, fast fashion labels or fleeting trends. Or, so thinks the younger lot. We speak to five designers showcasing in the GenNext category of the upcoming Lakme Fashion Week Winter/Festive 2017, about the future of fashion.
Fashion goes wholesome and holistic
With athleisure becoming a staple rather than a trend, we are further bound for some more relaxation of rules. Designer Sumiran Sharma, running the label, Anaam, feels androgynous is the way to go. "In my opinion, the future of fashion shall be the no-gender clothing orbunosex clothing. Same silhouettes for both men and women. One product would cater to both the markets. Also, the future of fashion is sustainable fashion, ethical fashion and handloom fashion." That sounds like music to our ears.
Virtual is a reality
Akshat Bansal loves working with shades of white and black. His label Bloni will be incorporating elements of athleisure in his upcoming collection. "I strongly believe that we haven't evolved and explored much, India has much more to offer than we can ever imagine. Part of my collection will be bringing unconventional newness to our handcrafts and traditional wear."
As for the future of fashion, he says, "It is high fashion for one and sustainable for another. Perhaps with the growing technology and especially virtual reality, it's going to be more unreal then today. People travelling for shows and the real experience of touch and feel of fabrics and fashion will slowly eliminate. Augmented reality is soon going to change the sense of fashion since now it's all about seeing it on the gadget."
Some unique and under-used techniques
His current collection speaks a lot about his frame of mind. Deepak Pathak's to be showcased collection is reminiscent of Bengali fishermen. He shares, "The garments are draped, twisted and tucked and have clean lines in an uncluttered palette of black and grey with organic embellishments." As for the future of fashion, he believes, "It lies in hand rendered surfaces, a technique which I feel will be used more in seasons to come."
Eco-fashion is here to stay
The designer-duo Saaksha and Kinnari feels, "Eco- fashion is going to be at the forefront of future fashion. Fast fashion is not only losing momentum, it is also losing popularity. The length or lifetime of a garment will be taken into account as will the notion of developing a garment with a cultural and emotional connect. More and more fashion brands are being deterred from purchasing or producing materials that are not made with recycled, organic materials."
Yet another happy vision that we want to believe. As for the their upcoming collection, "It is based on the parallels between masculinity and femininity, delicate and dramatic. Where we chose softer more feminine silhouettes like flowy dresses, pleated skirts, and pussy-bow blouses, we used edgier colours such as bold reds, dramatic blues and steel greys. Where we used more masculine, stronger silhouettes such as the oversized jackets, the tank tops, and power trousers, we mixed softer fabrics and colours such a chanderi, chiffons with pinks, and dull golds."
Fabric manipulation & surface techniques
Shenali and Rinzin, running the label Untitled Co, gives utmost importance to fabrics, which they pronounce as both their inspiration and foundation. "The industry is always on the look-out for something new. I believe that we as a brand love to play with traditional techniques and re-invent the existing. So, I think interesting surface techniques in terms of embroidery and fabric manipulation will be the next big things in fashion industry," share the two, who've worked with clean lines and soft pastels for their upcoming collection.Read more at:formal dresses | semi formal dresses